1155th TOS EDP SECTION SOFTBALL TEAM - Circa 1975
(Note: I'm suspect about the year and some of the names. Maybe you know better? ..bf)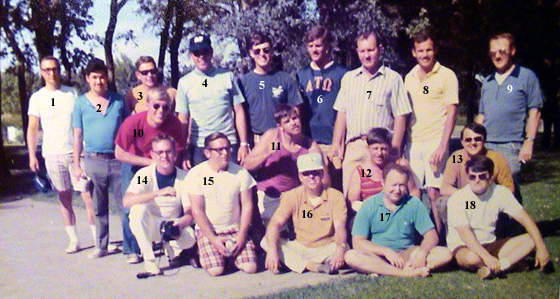 #1 Bob Post, 99125L Programmer. (The gent who Id'd the location & year of the photo for me.)
#2 Bud Toole, NCOIC? Computer Operations Unit?
#3 Dick Harper, Admin in EDP
#4 Major Glenn Atteberry, EDP Division Chief. (ID'd by Pat Burke 10/17/04)
#5 Lt. Rollo C. Adams?. (Tentatively ID'd by Pat Burke 10/17/04)
#6 Lt. ______ Laurie?, pretty sure! Made Capt, moved to HQ about 1976.
#7 SMSgt Reggie 'Dave' Leach, NCOIC? Computer Operations Unit?
#8 ____? (no clue)
#9 Red Aldridge, 99125L Programmer. Died at age 47.
#10 Capt Ron Wirtanen, (ID'd by Don Hemmick 03/24/05)
#11 Lt Wagonner, AF Programmer to replace 99125L programmers.
#12 Layton "Lee" Webb (now MSgt Ret in Las Cruces, NM - 03/21/05)
#13 Capt Donald Hemmick, CO of Computer Operations Unit? (ID'd by Lee Web 03/21/05)
#14 Lee Beusing, (sp?) 99125L Programmer
#15 Stan Yobi, Computer Operator
#16 MSgt Bob Fitzgerald, NCOIC EDP Programming Unit.
#17 Arnie Barnett, Computer Operator
#18 Don Parr, 99125L Programmer. Left AF after 4 years to work in Train Operations in TN. (ID'd by Dain Leadmon)

So, which one is "T. O. Fowler?"


HOW ABOUT IT?
CAN YOU FILL IN ANY BLANKS AND/OR HELP GET RID OF SOME OF THE QUESTION MARKS?
If so, Email Bob Fitzgerald at NMMaster@pacbell.net with any corrections or new names to go with the numbers on the guys.


BACK TO DESCRIPTION

BACK TO ALBUMS LIST
GO TO WCC HOME PAGE